Back to all posts
Posted on
Litterless Lunch Results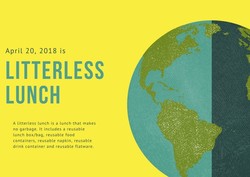 To celebrate Earth Day, Mrs. O'Gorman and Mrs. Stewart organized Litterless Lunch again this year. Students were asked to bring a Litterless Lunch and the class that produced the least amount of garbage wins a prize. This activity gets both parents and students thinking about caring for our environment and promotes great class discussions.
This year Mlle Bulger's class produced the least amount of garbage. 93.75% of the lunches in that classroom were litterless. Mlle Bulger's students will choose a poster from the library for their prize. Mrs. Neilly's afternoon class and Mme Masikewich's class tied for second place with 92.86% of their lunches being litterless. Each of these classes will receive a book for their classroom library. Congratulations to all three classes!
Thank you to all of those parents/guardians that encouraged their child to participate in Litterless Lunch. We hope you were inspired to send Litterless Lunches more often to help save our planet.