Back to all posts
Posted on
Important Advent Concert Information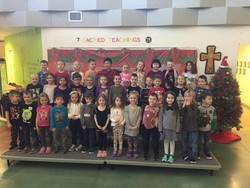 Dear Parents/Guardians,
We are so excited for our upcoming Advent Concert. The concert will be on Wednesday December 20th at 6:30pm, with doors opening at 5:45pm.
As we will be at Mother Teresa School for our concert there is some important information to be shared with you to keep everything running smoothly and to keep all of the children safe.  There will be staff located in the gathering area of Ecole Mother Teresa School directing you and your child/children as to which classroom they will be staying in during the performance.
Please use the Ecole Mother Teresa School main doors to drop off your child/children. The Shared Facility doors (middle doors-bottom of the hill) will be open for you to enter and find your seat for the concert. There will be no food or drinks allowed in the gymnasium.
As we will not be using the boot rooms at Ecole Mother Teresa for our Advent Concert, we are asking the following:
All students arrive at MTS with their inside shoes in a plastic bag
Upon entry into MTS, have your child put on their inside shoes and place their boots into the plastic bag.   
Your child will carry this bag to their designated classroom.  All coats and bags of boots will remain in the classroom. 
If you wish for your child to use a pair of inside shoes that usually remain at school, please write a note in your child's agenda.  
Once at the classroom, we ask that you sign your child in and let us know who will be picking them up so that they can be signed out. When the concert is finished we ask that you return to the classroom to sign out your child. This is a larger building than ours and this ensures that all children are with their guardians.  We ask that all families please stay for the entire length of the concert. It is so wonderful when all classes are performing to a packed house of supporters.  
We look forward to this incredible evening and thank you for your support! Please feel free to call the school should you have any questions or concerns.
Advent blessings to all,
EOLR Advent Concert Committee