Back to all posts
Posted on
Mme Campbell's Grade Three Students Researched the History of EOLRS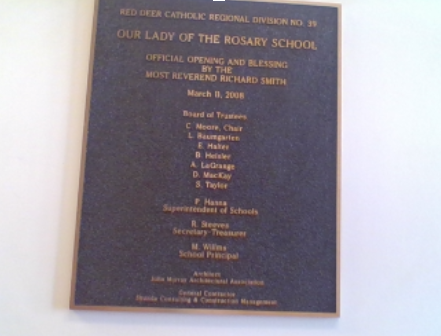 On May 16 we celebrated EOLRS's 10th birthday! In honour of this special event, our class researched the history of our school. This is what we learned:
In 2006 they started the sod turning to build our school and it was completed in November 2007.
In 2008 Father Gabriel blessed the Rosary Garden.
A work bee, which included parent volunteers, built our playground in 3 days.
The banner in the gathering area was made by Carmen Salisbury.
There are two school plaques at the front entrance, one was presented to us by the architect and general contractor who designed and built the school, the other one was presented by the Government of Alberta.
All of the items in the Chapel that have a blue stripe came from St. Joseph's Convent in Red Deer. This includes the large cross on the wall, the altar the podium and the candle holders.
The wooden cross in the Chapel was purchased by the school for our Celebrations. We use the cross as a sign of God's love and the peace we share with the world.
The two statues of Mary in the entrance of the school were a gift from Ecole Mother Teresa School and St. Francis School in Red Deer. Mary is important because she is the mother of Jesus. We have statues of Mary in our school because our school is named after Mary.
Mrs. O'gorman,  Mrs. Fercho, Mrs. Zolinski, Mrs. Shannon, Mrs. McIntyre and Mrs Delaurier all were members of our teaching staff when it opened.
Teachers had lunch one day on the roof and called it "Patio Life."
Our first principal was Margaretrose Willms.
--Submitted by Emily-Juene in Mme Campbell's Grade Three French Immersion class
Photos taken by Mme Campbell's Students