Back to all posts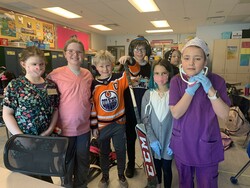 This week our students and staff had the opportunity to dress for the career they hope to have in the future. Google Meets were arranged with Dr. Keating, a veterinarian, Dr. Luke Pike, who specializes in Radiation Oncology, and Staff Sergeant Halwa. Thank you to our guest speakers for taking the time out of their day to teach our students about their careers!
In addition to this, Mme Alford created a trivia slideshow. Staff shared their previous careers and students have been guessing which staff member had the careers listed. It has been a lot of fun!
We hope students enjoyed sharing about their future careers as much as the staff loved hearing about their future plans!