Back to all posts
Posted on
Book Chatter "The Fabulous Friend Machine"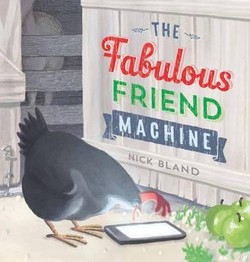 Book Chatter is a new idea for a blog, in which we will talk about books recommended by parents/guardians or ourselves. If you have any chatter you would like to add, please feel free to do so by emailing pearl.ogorman@rdcrs.ca. 
The Fabulous Friend Machine by Nick Bland, was recommended by one of our parents. When the friendliest chicken at Fiddlesticks Farm finds a Fabulous Friend Machine (cell phone) in the barn she makes new friends that may not be so friendly. We have read this book to Grades 1, 2 and 3 students and talked about how important it is to follow any internet rules parents/guardians have set for them. A great book to have around as a reminder of the importance of internet safety.
Nick Bland is also the author of The Very Cranky Bear series. 
--Submitted by Mrs. O'Gorman